Tagged:
the day we fight back
It's the end of the day here, and what a day it's been with 3 causes, 2 manifestos and so many hashtags I lost count! ;-) Organised chaos springs to mind… But it's been worth it. I've done my best to spread the word and went to my first CryptoParty (and Unconference :) at English PEN, which I just thought I'd briefly recap. The function was at their offices in London which were probably a bit small for the event even though there was a small lecture theatre space included.
Luckily as the numbers were limited it wasn't too crowded,  just very comfy. The mix was interesting – a few business people, some good hackers, information & freedom people, quite a few IT people (like me :) and just many who were interested and wanted to find out more. There was certainly a wide range of topics covered (in no particular order):
Secure SMS
Smart Phone Security
Secure Storage
Encrypting Mail
Safe Web Browsing
Why Bother? I have nothing to hide…
A Secure OS – Qubes OS
How Google and Facebook make money from you
PGP
Politics
TruCrypt (the software Snowden et al use)
In all, I'd say a Total Success! I was able to chat with many people and my wife was educated on many issues, some of which I'd talked about. The great thing was that it wasn't just me blabbering on and there were some interesting freedom and rights perspectives that were also given.
For me, it was great to meet others of like mind, that simply want to be able to express themselves freely and without fear of any consequences now and in the future.
One of the key messages was that privacy should be the default (ah – remember the good 'ol days ;) and that we should politically move towards this.
In the mean time however, we need to implement "stop gap measures" that increase peoples privacy by encrypted communication, storage and working. This has given me some focus for my contribution.
I'd planned on leaving Google this year anyway and blog about it. I can now see that I actually have a greater need to reclaim my privacy, and I'll be blogging about that also. I can't wait to see what happens on next years The Day We Fight Back, Necessary and Proportionate, to Stop The NSA, and Stop Spying on US! Or as I'd like to call it – Information Freedom Day :-)
Updates: Just in today:
Welcome to my meager effort in the push back against unconditional mass surveillance. At the moment I'm waiting on some treatment for a pinched nerve that means I can't use my right arm much for typing, which is literally a pain. Still, nothing will stop me blogging on this auspicious occasion which I passionately believe in!
Anyone who knows me virtually or physically knows that I am a passionate believer in people, humanity and freedom – some of the core principles of The Magna Carta and The American Constitution. For this reason I'm fully signing up to The Day We Fight back. To me, this means a sort of non-violent revolution along the lines of
How to Start a Revolution by Gene Sharp
which has been behind many recent revolutions such as the Arab Spring and Eastern European ones. Ironically, we now need tools such as this to ensure our own freedom in Western Civilisation…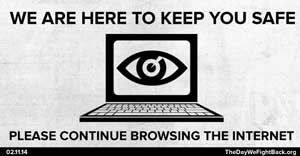 Why? Because the USA (NSA) and other countries such as the UK (GCHQ) and Australia (ASIO) seem to be heading down a very dark path based around the darker side of human nature. This has been trodden before and never ended well for anyone…
The current situation with mass surveillance will soon be beyond what George Orwell warned against in his book and the movie 1984. Even allowing for the fact that people have "nothing to fear" if they "obey the law", there have already been numerous instances of NSA Employees abusing the current system and the NSA helping US corporations conduct corporate espionage. Here in the UK, we're now looking at our confidential health information being sold to whoever wants it which is a total violation of patient-doctor confidentiality.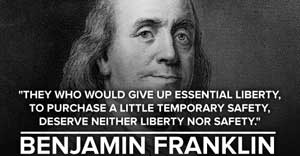 Underlying all of this is the dangerous assumption that large institutions (be they government or corporations) can tramp over the rights of individuals (aka people :) and exploit them as they would any other resource for their own ends. I think it's time people really understood the value of the privacy and took it back so we don't all end up going somewhere where most people don't want to be and won't enjoy. The choice is yours…
PS If you're in the UK, although it's not on the official page, there's a (CyberParty) event at English PEN tonight – seems like there are still tickets available…